Hello,
My name is Ms. Pleasant, and I am the second grade educator at Jefferson Elementary School in Gary, Indiana. This is a short e-mail to let you know that Class 22, second graders at Jefferson, enjoyed Mrs. Sweet, the NEP Advisor, tremendously.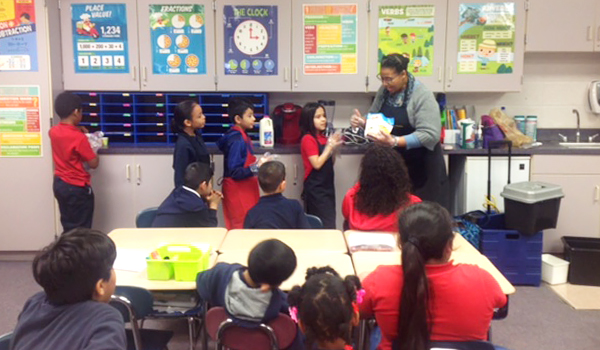 She was always on time and very well-prepared to take the students on an exciting Health adventure. We loved her various prompts, such as her veggie beanbags and little health nuggets. She incorporated her beanbags in her exercise activities which the students really liked. This made them get involved and even more excited to exercise rigorously.
Mrs. Sweet brought the HEALTH message to a new level for the students. The students learned about fat, bones, calories, food categories and so many, many other nutritional and health facts. Her handouts were also very helpful. The students were able to share their learning experiences with parents after each session.
We cannot omit Mrs. Sweet's delicious, HEALTHY treats after each visit. Many of the students had new food and taste experiences for the first time. These foods were served in a variety of refreshing and fun ways. The students had wraps, dips and their most favorite of all, her smoothies. This was a good way to get them exposed to new vegetables and fruits.
Class 22 will say again, we have thoroughly enjoyed Mrs. Sweet. Even though the second graders will go on to the third grade, I, Ms. Pleasant, look forward to introducing her to the next group of second graders later this year when the 2017-2018 school year begins.
Thank-You for all that you do for the students' educational experiences!
Sincerely,
Ms. L.M. Pleasant &
The Second Graders at Jefferson Elementary School
Save