In this section, you'll find tons of great tips, recipes and videos. Watch success stories. Learn how to eat smarter and move more. Snag a recipe for tonight—and much more. Enjoy!
Video:

Helping All Kids Get Healthy

Being physically active for a lifetime starts at a young age. Hear more about the partnership between PNEP sponsored programs and local educators.
Jessica Harkness "Eating Together & Healthy!"
Pizza & soda used to be a typical meal for Jessica & Mikel. After taking free NEP programs, dinner is baked chicken, rice, vegetables and water. "I'm doing a good job of being a mom," said Jessica. "Saving money, stretching the budget & eating healthy meals together are proof of that!"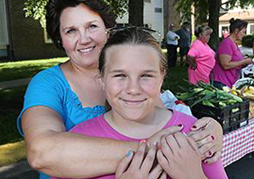 Suzanna Johnson "Turning Goals into Reality"
Suzanna found free NEP programs after her daughter, Rebekah, participated in a school program & shared what she learned. Suzanna took lessons, learned about nutrition, food safety & physical activity. She credits the program with turning a healthy, happy life into reality.
Video:

Making a Difference in Children's Lives with CATCH

Learn how PNEP Nutrition Educators work within schools to help children understand the benefits – and fun – of being physically active and eating healthy.