In this section, you'll find tons of great tips, recipes and videos. Watch success stories. Learn how to eat smarter and move more. Snag a recipe for tonight—and much more. Enjoy!
Video:

Meet Patty Sanders | Nutrition Education Program Advisor

Patty Sanders talks about why her lessons are so exciting.
Jessica Harkness "Eating Together & Healthy!"
Pizza & soda used to be a typical meal for Jessica & Mikel. After taking free NEP programs, dinner is baked chicken, rice, vegetables and water. "I'm doing a good job of being a mom," said Jessica. "Saving money, stretching the budget & eating healthy meals together are proof of that!"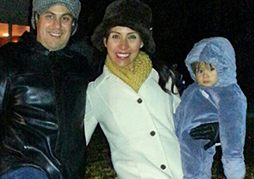 Brenda Medina "From Student to Teacher"
When Brenda came to Indiana, she didn't speak English & thought she was healthy.  When she became pregnant, she found she was vitamin deficient.  Thanks to the NEP, she learned how to get the vitamins & nutrients she needed. She liked the lessons so much that she became a NEP Advisor!
Video:

My Favorite Success Story with Bonnie Zeilenga

Bonnie Zeilenga shares how she has made lifelong friends through teaching lessons.