In this section, you'll find tons of great tips, recipes and videos. Watch success stories. Learn how to eat smarter and move more. Snag a recipe for tonight—and much more. Enjoy!
Video:

My Favorite Success Story with Bonnie Zeilenga

Bonnie Zeilenga shares how she has made lifelong friends through teaching lessons.
Jessica Harkness "Eating Together & Healthy!"
Pizza & soda used to be a typical meal for Jessica & Mikel. After taking free NEP programs, dinner is baked chicken, rice, vegetables and water. "I'm doing a good job of being a mom," said Jessica. "Saving money, stretching the budget & eating healthy meals together are proof of that!"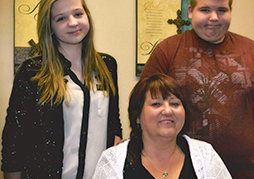 Jeannie Kearby "Nutrition Education Led to Life Changes"
For Jeannie, the NEP programs brought her more than just amazing nutrition information & help stretching food dollars. The self-esteem she gained from taking control propelled her to even greater success—in working full-time, caring for her two children & attending college classes.
Video:

Heroes. Real People. Real Tips. Meet Brenda

Brenda shares with you why she decided to become an nutrition educator and share helpful, money saving tips to the community.