In this section, you'll find tons of great tips, recipes and videos. Watch success stories. Learn how to eat smarter and move more. Snag a recipe for tonight—and much more. Enjoy!
Video:

Fresh Scripts

A Prescription for Healthier Eating! Learn more about how the Community Gardens help provide access to fresh, nutritious produce and what the Purdue Extension Nutrition Education Program is in your community to stay healthy and well!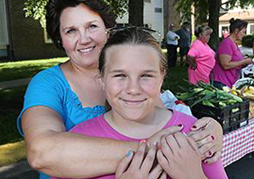 Suzanna Johnson "Turning Goals into Reality"
Suzanna found free NEP programs after her daughter, Rebekah, participated in a school program & shared what she learned. Suzanna took lessons, learned about nutrition, food safety & physical activity. She credits the program with turning a healthy, happy life into reality.
Jessica Harkness "Eating Together & Healthy!"
Pizza & soda used to be a typical meal for Jessica & Mikel. After taking free NEP programs, dinner is baked chicken, rice, vegetables and water. "I'm doing a good job of being a mom," said Jessica. "Saving money, stretching the budget & eating healthy meals together are proof of that!"
Video:

Everybody can live a healthy Life

Learn how PNEP's Community Wellness Coordinators marshal resources to help those in the blind community live an active, healthy life.