In this section, you'll find tons of great tips, recipes and videos. Watch success stories. Learn how to eat smarter and move more. Snag a recipe for tonight—and much more. Enjoy!
Video:

Grocery

Affordable healthy foods are within reach! Learn more about the area grocery stores are joining the effort to increase access to healthy foods and about what the Purdue Extension Nutrition Education Program is doing in your community!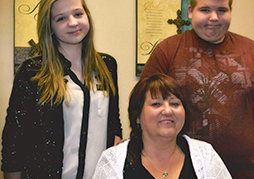 Jeannie Kearby "Nutrition Education Led to Life Changes"
For Jeannie, the NEP programs brought her more than just amazing nutrition information & help stretching food dollars. The self-esteem she gained from taking control propelled her to even greater success—in working full-time, caring for her two children & attending college classes.
Jessica Harkness "Eating Together & Healthy!"
Pizza & soda used to be a typical meal for Jessica & Mikel. After taking free NEP programs, dinner is baked chicken, rice, vegetables and water. "I'm doing a good job of being a mom," said Jessica. "Saving money, stretching the budget & eating healthy meals together are proof of that!"
Video:

Heroes. Real People. Real Tips. Meet Shannon

Shannon discusses why she is so thankful for the free classes and how they have helped keep her family healthy on a budget.